Warm gooey cheese drips from a lightly toasted tortilla. Your eyes focus on peppers, onions, and- Oh, the cheese is just dangling from the edge, and you want to take a huge bite, but you just worked out and eating anything that looks this delicious can't be good for you. Right?
This is usually when you assume tasty food must be unhealthy, but not on this site. Here, we share ways to keep the flavor while making typically unhealthy meals affordable and healthy!
For our healthy choice option and to give you a specific recipe, we will use our black bean recipe (linked below) as our staple ingredient. Still, we will also discuss alternative ingredients to ensure you have plenty of options in addition to several resources to research subject matters further.
How to make Black Bean Nachos - FlipFlops2Chanel
Ingredients
(2-10) – Tortillas
The exact number of tortillas depends on how many you want to eat. Likewise, if using leftovers, the number of tortillas needed would rely on the number of leftovers and how much you want to eat. However, you can always stretch it by adding a slight bit more of whatever ingredient you have on hand. One tortilla makes one quesadilla. Cut in half for perfectly hand-sized bite-ability.
*Please see the "About the Ingredients" section for healthy tortilla options/tips.
½ cup to 2 cups - Shredded Cheese
The amount of cheese will depend on the amount being cooked, the size of tortillas, the level of calorie and sodium intake you can safely consume, and any other health restrictions. Please see below for information about cheese, its benefits, and tasty alternatives when it's not your preference. Use cheese sparingly; black beans will add extra gooey texture, so less is more here and an easy way to keep this meal on the healthy side of the table.
*Please see the "About the Ingredients" section for more healthy cheese options/tips.
½ cup to 3 cups - Pre-cooked (or even leftover) Black Beans or substitute black beans for any option listed below the recipe, in the about ingredients section.
Please drain excess liquid or lightly simmer until most of the liquid has evaporated; this helps keep the quesadillas from getting soggy.
Directions
#1- Heat cast iron pan, non-stick griddle, or skillet, set over medium heat until hot. If necessary, use a non-stick spray or lightly coat tortillas in avocado, olive, or grapeseed oil before adding to a non-stick pan to reduce sticking or breaking tortillas during flipping.
As the pan heats, assemble your first two quesadillas. Each tortilla makes one quesadilla. Place one tortilla on a plate and add your fillings using a spoon.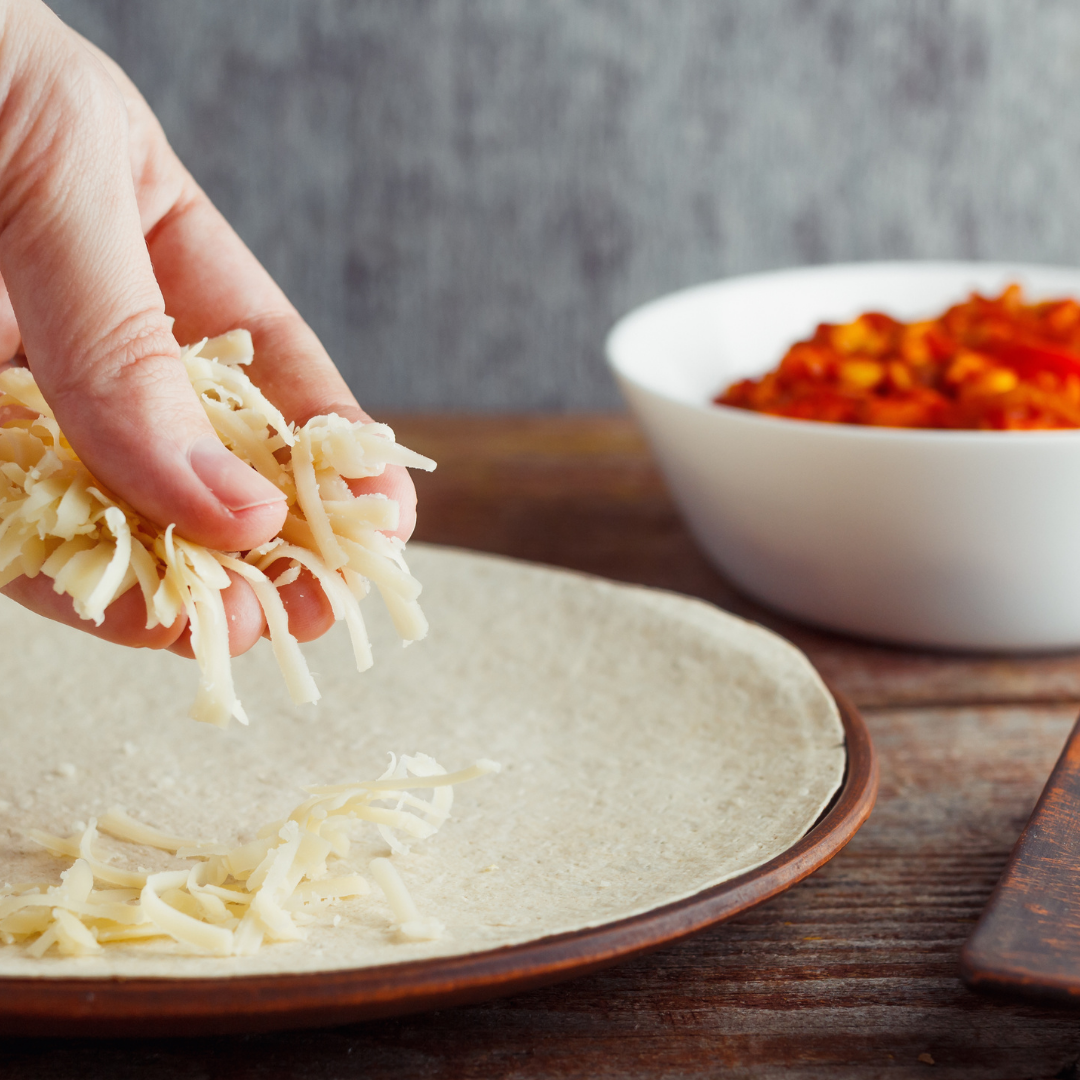 Fill half of the tortilla with a spoonful of black beans and another spoonful of cheese or two if you don't mind the extra calories, and in the event, you are using large tortillas.
You can also replace beans with a spoonful of selected meat, a meatless option, or try adding sauteed peppers and onions for an extra kick of flavor. You want ingredients to be evenly distributed in layers of flavor, so don't mix or stir whatever ingredients you choose to use.
#2- Next, fold the tortilla over and carefully place it in the pan, so the filling stays inside.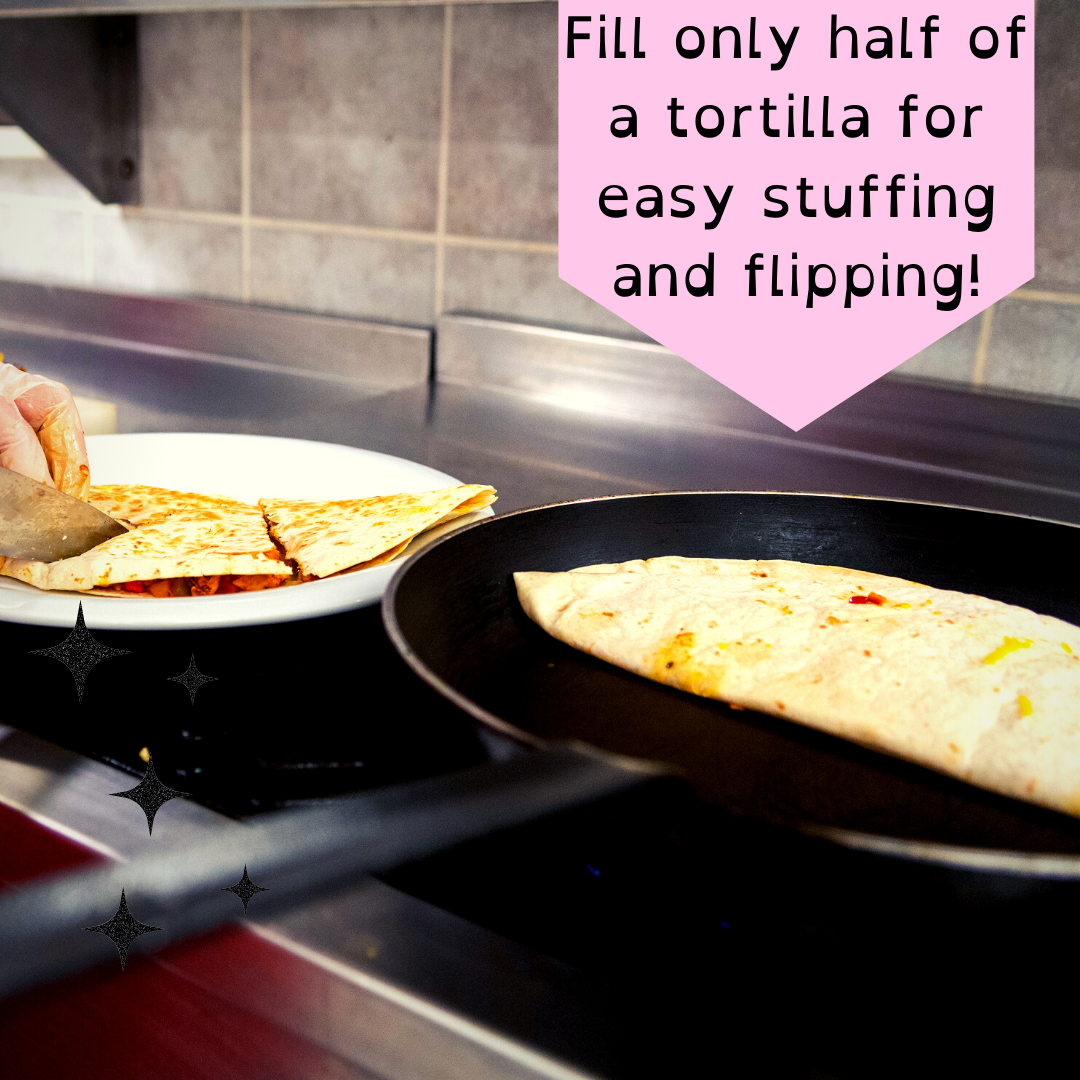 #3- Lightly press quesadillas down with a spatula before flipping it on the other side, pressing from the open edge inwards, so you avoid squeezing ingredients out. They should take 1-3 minutes on each side to cook.
Carefully remove from heat, cut each one in half with a pizza cutter and serve with your favorite toppings or dipping sauces like fresh salsa, guacamole, etc.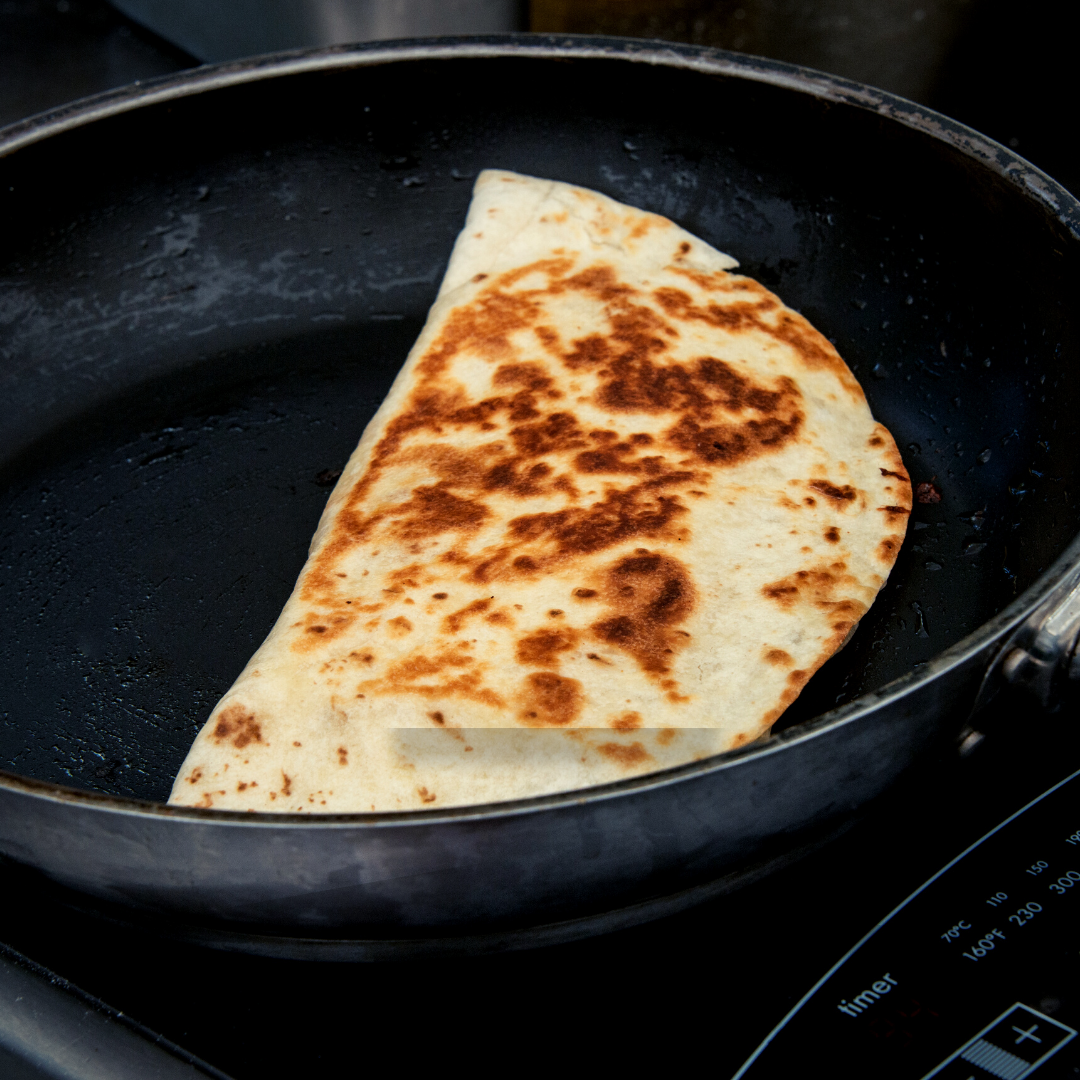 About the Ingredients
Tortilla (s) [tohr-TEE-yuh]
Tortillas are thin (or flat) round pieces of unleavened bread made from different ingredients like corn flour (MASA) or whole wheat flour, but they have many more differentials than those alone. Sold in grocery stores throughout America and found prepackaged in the refrigerator section and the isle with other Spanish or Latin-inspired themed foods. Tortillas may look like thin pancakes, but they are the complete opposite, from taste to texture to how they are used/eaten. They are the staple ingredient to many Latin and Spanish dishes because you can eat them as bread or use them as a wrap to all kinds of fillings, such as this quesadilla recipe. Plus, more like burritos, tostadas, and soft tacos too.
La Tortilla Factory has healthy tortillas down to a tasty science. Although we have no affiliation with this company, we have been fans of their delicious options for years, plus they are affordable, so we wanted to mention them.
This company offers several varieties of healthy tortillas to choose from, such as Low Carb, Organic (our top choice), Non-GMO, Gluten-free, Grain-free, Sonoma All-Natural, Whole-Wheat Protein, Light and Wheat-free, plus many more.
Please see your local shopping retailers like Publix, Winn-Dixie, H-E-B, etc., for pricing and selection. Or visit the La Tortilla Factory website (listed below) to search or buy products.
Follow directions of any brand you choose as they will vary on cooking requirements.
Cheese
Vegetables like Chinese cabbage (Bok Choi) and kale are excellent non-dairy sources of calcium in food, but do you know cheese is rich in calcium too?
Yes, of course, you do; we were trying to get your attention because with all the diet trends alienating cheese these days, we hope to remind some people of this fact.
Although dairy products have many downfalls, a large population thrives on them and has no interest in becoming vegan, which we understand. In respect to that, we discuss both dairy cheese and non-dairy cheese options in this section. We are not debating which is the healthier choice because everyone has their own opinions. My household of 6 is divided amongst vegans and nonvegans, so no disrespect to either community of devote food lovers.
The National Institutes of Health Office of Dietary Supplements states that the United States has a substantial proportion of people not consuming the recommended amounts of calcium.
Source: Calcium - Health Professional Fact Sheet (nih.gov)
Calcium deficiencies can lead to osteoporosis, osteomalacia, and other health concerns. Please ensure adequate amounts of calcium are consumed daily. That can occur from eating calcium-rich food like milk and cheese, vegetables, sardines with bones, plus many more. There are healthful cheeses that offer a variety of nutritional benefits from full-fat, vegan, and non-GMO. Plus, many more variants, so knowing your health/dietary needs and label checking when choosing cheese is critical to maximizing your health benefits.
How can I find the nutritional values of my ingredients before my shopping trip?
Checking food labels in busy grocery store isles can sometimes be difficult; avoid this by either quickly grabbing ingredients and moving to a more secluded section of the store to read the label and nutritional information or checking online pre-shopping trip for ultimate convenience.
The U.S. Department of Agriculture (USDA) has approximated nutritional values on whichever cheese you choose to use, along with measurements and other analytical information.
Go to www.fdc.nal.usda.gov and click on the Food Search button next to the home button. Enter the name of the food in the search field for available information on that food. Then, email them with further questions or comments by going to the contact Food Data Central Field box and entering your contact information or viewing the site's other resources.
The following tips relate to particular cheese features like cost, chemical predispositions, or lack of them and their benefits. These are quick tips meant to direct and not impose nutritional aspects of any product, concept, or statement onto any individual or entity. Of course, your doctor and only you can do this.
Organic Cheese- Organic cheese is generally more expensive compared to conventional cheese, so shop around for the best prices, sales, and stores with coupons for these products. When shopping for non-GMO cheese, remember the number one rule is that while not all non-GMO labeled foods are organic, all organic labeled food is non-GMO, and that's in addition to their other benefits. Look for labels with a green, brown, and white-colored seal with the words "USDA ORGANIC," which means it meets strict organic standards and that an independent and accredited 3rd party has certified it as organic.
Organic Valley offers non-GMO dairy products with no added toxic pesticides, synthetic hormones, and antibiotics. Plus, there are no toxins or synthetic fertilizers used when farmers organically raise animals.
By using natural ways to remove and control pests' population, organic farmers have bypassed the need for dangerous chemicals being exposed to animals, the environment, and human beings, but most concerningly our children as they are in the developmental process and introduction to these chemicals should be avoided.
What if I can't afford organic produce or food?
#1- Buy on sale, use coupons, or find organic foods and produce on clearance racks, but keep in mind that foods marked for clearance may be expiring soon; check expiration dates to ensure you have time to consume them safely.
#2- Eat a balanced diet with various fresh fruits, vegetables, and other non to minimally processed foods to reduce risks of over-eating of one food that might have large amounts of dangerous pesticides, synthetic hormones, and other unhealthy factors.
#3- Grow what you can organically right from home. A small garden can save you money, time shopping, and mindful activities like gardening are said to be quite soothing. Plus, homegrown produce tastes terrific compared to store-bought options. It's pretty easy to get your own garden started too. Try a quick search online for videos with handy tips and advice, ask someone with a natural green thumb for help, take a gardening class, or even use the old-fashioned method of reading a book. We suggest growing foods you are excited to grow yourself which may motivate you to follow through to the next step, get supplies, plant the seeds, and enjoy the fruits of your labor.
#4- Know what foods/produce carry higher levels of pesticides and other hazards and limit the amount you eat, grow them yourself or avoid them altogether.
#5- Shop at farmers' markets as many farmers have fair prices for freshly picked produce. Plus, it hasn't been blasted with any additives like wax which is often used on fruits and vegetables to extend shelf life, among other reasons, all of which do nothing to increase their health benefits.
Clean produce as soon as you get it home with a clean vegetable brush and an organic produce cleaner (when available) to remove exterior germs and other contaminates. Ensure you thoroughly wash your hands before handling food/produce.
Peeling the skin off of fruits and vegetables that are shown to have higher amounts of pesticides may help reduce the number of chemicals you risk eating but consider these factors first.
Firstly, wasted food equals wasted money, defeating the purpose of buying non-organic produce. Secondly, the valuable nutrients found in the skin of produce will be wasted too. Finally, this method is environmentally unfriendly unless you plan on using the produce as scrapes for compost and hopefully even start a garden of your own.
#6- Buy fresh produce to last for a couple of meals rather than a week or more. The longer foods are stored, the greater the chances that mold, bacteria, or other contaminants can multiply.
Pasteurized Cheese- The U.S. FDA (Federal Department of Agriculture) regulates pasteurized cheese and unpasteurized cheese products with specific rules due to past outbreaks of milk-borne diseases caused by contaminated milk. American cheesemakers must follow these guidelines, whereas other countries have few (if any) restrictions on pasteurized cheese products. However, there are quite a few guidelines for shipping such products to the United States.
For more information, we refer you to their site linked below.
FDA Website: www.fda.gov
The FDA takes tedious steps designed to protect people from mild to life-threatening health emergencies that can happen when food is mislabeled, mishandled, or problems are found in general. They quickly work to ensure companies are giving consumers accurate information amongst a slew of other requirements. So, when situations call, for instance, a recall on contaminated food, the FDA works with manufacturers to quickly pull products from store shelves and warn consumers, plus much more.
According to the FDA, food allergens or food hypersensitivities appear when our body's immune system reacts to specific proteins found in the food we consume.
So, tedious regulations are critical to the safe consumption of foods. Still, it's ultimately up to everyone to question our food source, regardless of cost, creative marketing, or other factors unrelated to safety. So, take necessary precautions such as but not limited to, checking labels, researching products source, and even assisting official efforts by reporting problems issues such as allergic reactions to foods to the FDA Consumer Complaint System.
Please follow the link below to learn how to file complaints with the FDA Consumer Complaint System.
FDA 101: How to Use the Consumer Complaint System and MedWatch | FDA
Follow the link below for related information on cheese or other foods and food allergens from the FDA. www.fda.gov/Food/IngredientsPackagingLabeling/FoodAllergens/default.htm
We mention food allergies because milk, the main ingredient in traditional cheeses, is among the eight major food allergens. However, we would like to add that list will also include sesame as the 9th major food allergen effective January 1, 2023, so expect label changes on and after that date.
To reduce health risks, consumers can check the FDA's website to ensure your groceries have not been recalled, which is especially important for people with immune systems that cannot easily ward off threats from allergic reactions, disease, or illness.
Source: U.S. FDA (Food & Drug Administration)
Block Form Cheese- Block form is typically cost-effective compared to pre-shredded and healthier. Although they may be convenient, shredded packaged cheeses are also likely to contain processed sugars, additives, and other unnatural ingredients such as anti-caking agents called cellulose, which increase shelf life.
Grating cheese can be a pain to clean up, but if you spray a bit of organic non-stick cooking spray on the grater first, cleanup will be easier because the cheese has a hard time sticking to the grater.
Whole Fat Cheese- Low-fat and fat-free cheeses are likely to have supplements added to them, chemical stabilizers, and thickeners. These agents are designed to increase the shelf life (amount of time before a product expires) or to make other enhancements like flavor, texture, and even smell.
When organic or non-GMO options aren't available, look at cheese products with a label saying, "No preservatives or coloring agents/dyes."
Vegan (or Dairy-free) Cheese- A plant-based meat and cheese company named "Field Roast" manufacturers an array of plant-based products, "CHAO" vegan shreds being one of them.
Available in different flavors like creamy original or Mexican style blend, these taste, smell, and look like real dairy cheese, but the best part is that all of these products are 100% dairy-free.
CHAO original cheese shreds are made with these easy-to-read ingredients: filtered water, coconut oil, modified corn, and potato starch, potato starch, fermented Chao tofu (soybeans, water, salt, sesame oil, calcium sulfate), sea salt, natural flavor, olive extract (an antioxidant used as a preservative), beta carotene (for color), and powdered cellulose (to prevent caking).
Although it only has 80 calories per 1oz (28g) servings, it also has 11% (260mg) sodium and is not organic. Therefore, please use sparingly to avoid excessive salt intake and other consequential factors.
It is important to note that these products have allergen warnings because they contain soy but remember that as of January 1, 2023, sesame will be added to that list too.
Storing Cheese
Firm (ex: Parmesan Cheese), semi-firm (ex: Cheddar Cheese), and semi-soft (ex: Gouda and Monterey Jack Cheese)- Wrap airtight in a plastic bag and keep in the cheese compartment or the warmest area of the refrigerator for several weeks, following expiration date accordingly. Although these cheeses can be frozen, the texture may be affected.
Fresh (ex: Cream Cheese, Ricotta, and Cottage Cheese) and soft-ripened cheese (ex: Brie) – Wrap tightly in a plastic bag and keep in the coldest part of the refrigerator for up to 2 weeks, following expiration date accordingly.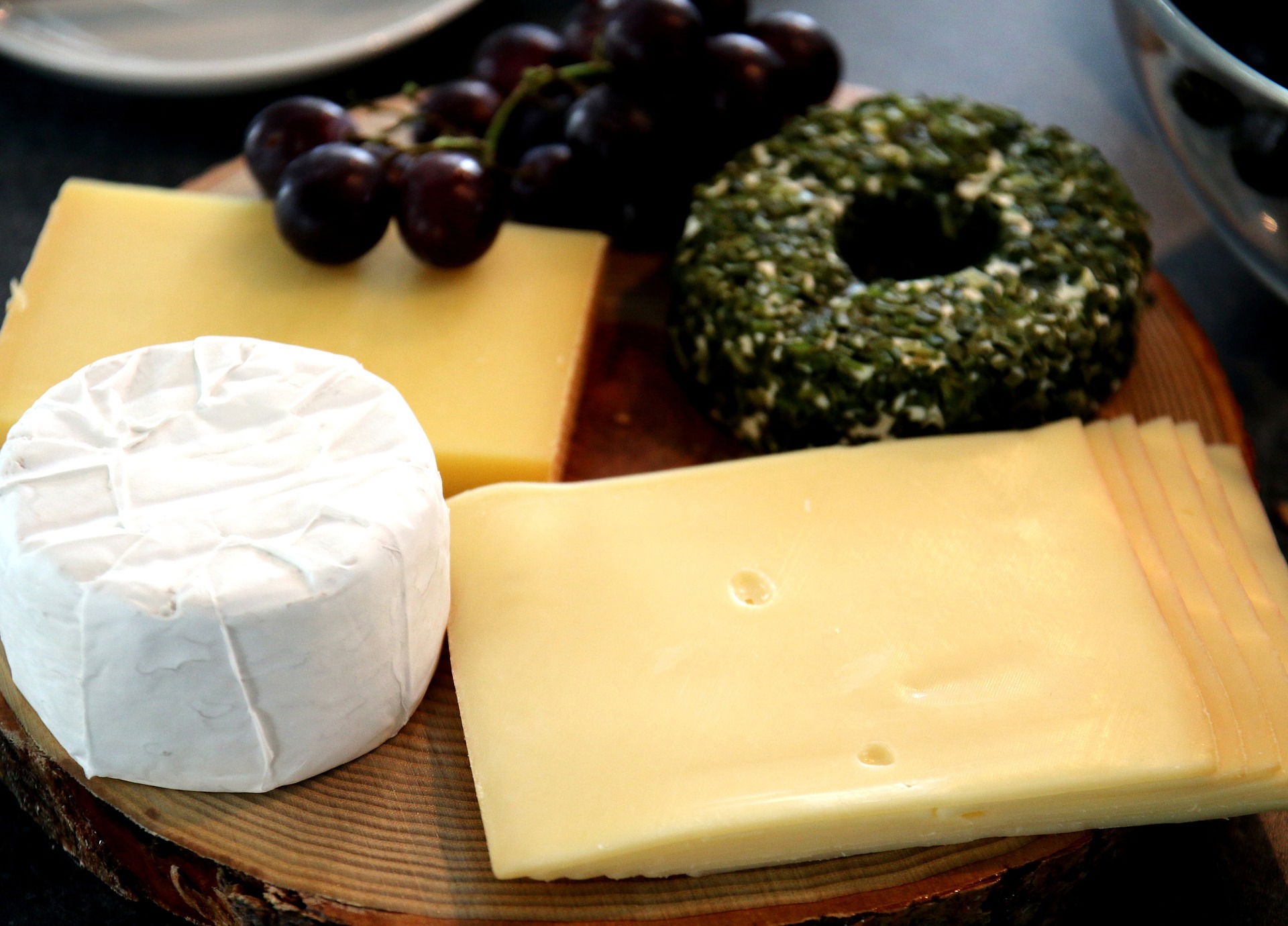 Black Beans
Organic Black Beans are safe to eat, high in fiber, vitamins, and protein, and promote good digestion.
Black beans are packed with nutrients like protein, but remember, the organic version comes with benefits like no additives, synthetic hormones, and other negatives that come from eating food that is not organic.
"Goya" is an American company that sells an array of quality beans amongst other Latin-inspired products and even produce like yucca.
The cost for a small organic can or a 1-pound bag of black beans runs typically 30¢-50¢ higher than conventional black beans and 15¢­ 25¢ higher for non-GMO black beans.
However, if cost is an issue, consider buying the next best option, non-GMO black beans, which Goya also has available. These products do not go on sale often, and coupons are rarely dispersed so plan to stock up for maximum savings when they are on sale. Although fresh beans are more affordable, and many would argue healthier, they are time-consuming to prepare, so people often avoid them.
Refried black or refried pinto beans- Although over 100 varieties of beans exist, black and pinto beans are the two most commonly used for quesadillas. Refried beans got their name from the Spanish dish "Frijoles refritos."
Contrary to the unhealthy-sounding name, refried beans are not refried, and when done from organic fresh whole beans, this can be pretty healthy and a substitute for meat since beans are packed with protein.
Meatless Options or Substitutes
Oils used for meat and meatless options- Avoid hydrogenated oils, canola oil, corn oil, palm oil, vegetable oil, and even soybean oil. These are generally considered unhealthy due to being highly processed.
Tofu [TOH-foo]- Tofu processed with a calcium salt is the only kind that provides a significant amount of calcium; all others do not. Please keep this in mind when meeting your daily minerals requirements like calcium. Follow expiration date as tofu typically can be refrigerated for up to 1 week or stored in the freezer for up to 3 months; however, a chewier texture may result when frozen. Tofu is easy to digest, cholesterol-free, and high in protein.
Vegetarian meat- Plant-based meat substitutes offer protein sources without the saturated fat found in conventional meat. Surprisingly, the cost is not much more expensive, especially when bought on a B1G1 (Buy 1 Get 1 Free) sale. Follow sale trends at grocery stores and plan on filling up your freezer during the best deals to avoid paying the full cost.
Meat Options
Use organic or humanely raised meat in place of conventional meat. The debate over which is healthier is not ours to make (in this article anyway) but rather your decision to take. Both have claims of being the best option for many reasons, but ultimately taste, quality, and expense will determine your perception of which is the best for you. The point is to avoid meat that has been exposed to pesticides, hormones, or any other unnatural attributes, GMO included.
Grill, Broil, Smoke, Roast, or Sauté desired meat but never use fried meat in quesadillas because the extra grease soaks into the tortillas and can make them soggy.
Cut shrimp or other meat of your choice into bite-sized pieces and sauté with onions, peppers, and seasonings of your choice.
Use white meat for healthier chicken quesadillas by cooking and shredding it before adding to the tortilla. Leftover roasted, baked, broiled, grilled, or smoked chicken makes this even easier, but a store-bought roasted chicken will work too. Avoid using fried chicken; excess grease or oil will make your quesadilla soft/soggy and unhealthy compared to all other forms of cooking the chicken.
Jazz up store-bought rotisserie chicken by shredding and sautéing it with a dash of olive oil (or enough to coat pan for cooking), ½ cup purple onions, ½ cup of red and green peppers, ½ tsp minced garlic, a pinch of sea salt, and fresh ground black pepper to taste. The amount of seasoning will vary per taste buds, health restrictions, and personal preference. Sauté until onions and peppers are softened to your liking and remove from heat to cool slightly before handling filling for quesadillas.
Quesadilla Toppings or Dipping Sauces
Freshly made with organic ingredients is the healthiest and tastiest way to eat salsa, guacamole, or most other foods for that matter. With a handful of quality/healthy ingredients and a sale or coupons, you can have fresh salsa, Pico de Gallo, etc., for a fraction of the cost.
1) Salsa
2) Guacamole
3) Pico de Gallo
4) Avocado slices and lime wedges
5) Hot Sauce- "Dr. Stadnyk's Hot Sauce" is made with organic carrots, habanero peppers, kosher salt, and organic vinegar; yup, that's all!
So, with minimal but quality ingredients and made in small batches, they can produce a hot sauce that is both healthy and tasty.
A 5oz. bottle costs $5.99 online, but shipping fees are not included.
6) Spicey Avocado Yogurt Sauce- This is a great substitute for sour cream because it's healthy yet still a creamy and flavorful topping.
Blend the following ingredients by hand, with an electric mixer, or in a food processor. Next, chill and serve as you would conventional sour cream.
One cup yogurt-

Avoid store-bought yogurt containing gelatin, pectin, and especially yogurts with few to no live cultures.

A pinch of Cayenne-

Add more if you like it hot.

½ cup pureed or mashed ripened avocado-

It's okay to double up if you really love avocados; just add a bit more lemon or lime juice and salt and pepper.
Please see our following link for tips on picking perfectly ripe avocados.
How to make Guacamole - FlipFlops2Chanel
Freshly squeezed lemon or lime juice-

Add a bit as necessary to achieve the right consistency and flavor.

Freshly ground sea salt and (black or mixed) pepper to taste-

Please add salt and pepper last to avoid over-seasoning.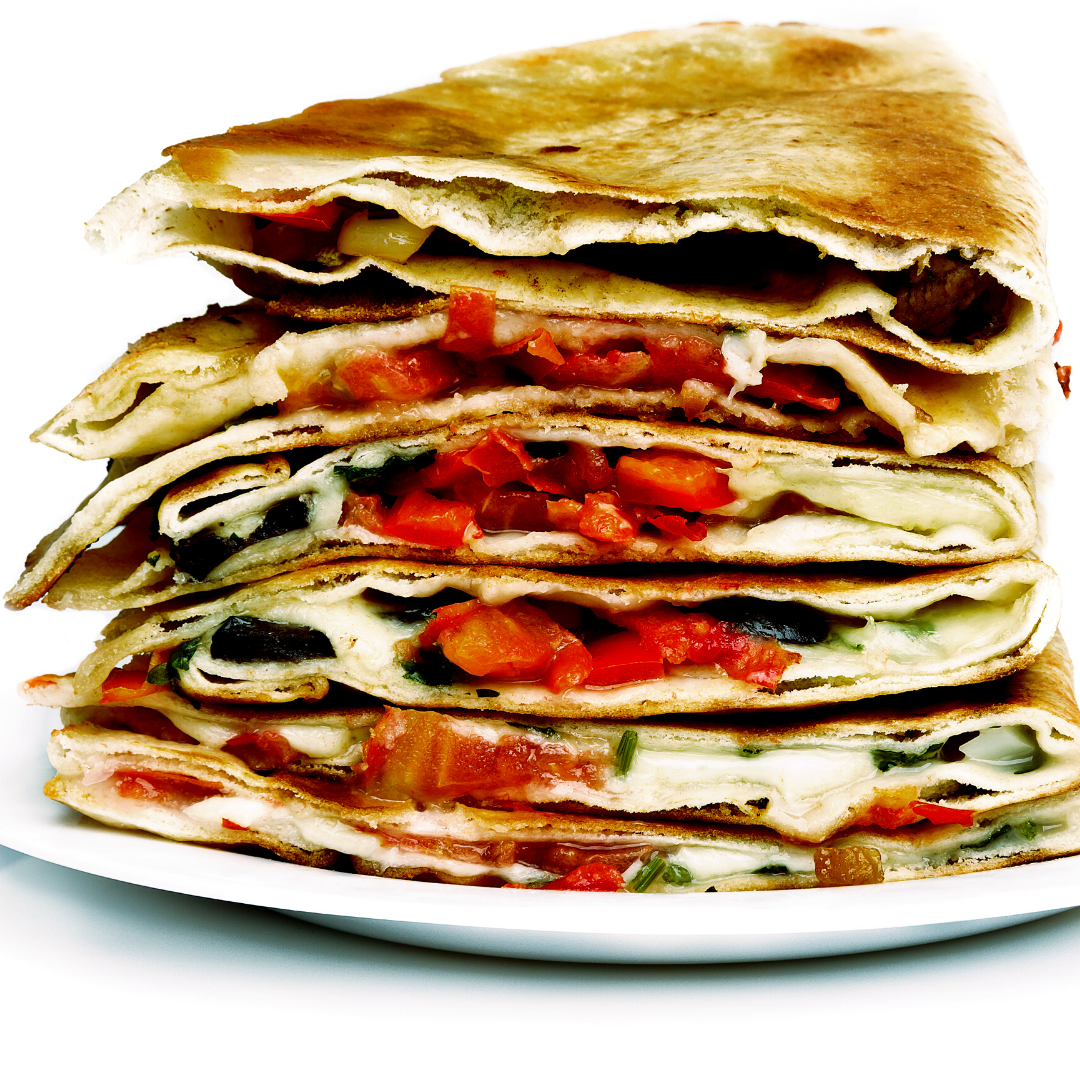 We hope you find some useful tips in this article. However, we want to remind you of our disclaimer, which (generally speaking) states that only you and your doctor should decide what is healthiest for you, especially concerning meeting your nutritional needs, recommendations, advice, dietary restrictions, and other personal health needs. Please research products and follow the manufacturer's directions, including adhering to expiration dates and allergy warnings.